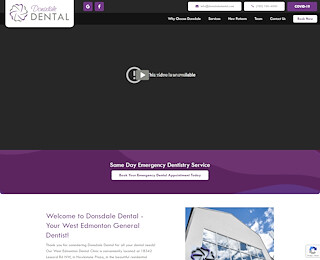 Family dentists address the dental needs of patients across all stages of life, right from childhood to adulthood. Moreover, since they know family members at a personal level having worked with them for over the years, they are at a better position to understand their needs.
A family dentist offers different services such as tooth replacement, adding fillers, dental cleanups, and installing crowns, or bridges. The dentist can also educate family members on the best oral care practices. For instance, avoiding sugary foods, regularly brushing teeth after meals, and taking calcium-rich meals for stronger teeth.
Some family dentists provide home visits, instead of their clients coming over to the office. This kind of flexibility is ideal for disabled or even nervous clients.
Donsdale Dental is a family-focused dental facility with professional and welcoming staff who will make you feel right at home. What's more, we use the latest technology in our West Edmonton family dentist clinic.
What's the Difference Between a Family Dentist and General Dentist?
Family dentists specialize in offering dental care to people of all ages. Instead of going to different dentists, all your family members' dental needs can be taken care of by one dentist. Additionally, since they keep detailed dental records of family members over a long period, they usually have a deeper understanding of their patients' oral care needs.
General dentists, on the other hand, might restrict their clients to a particular age group. If a dentist won't see patients below the age of 15, and you have a 3 and 12-year old, you'll have to find another dentist who can meet the dental needs of your children.
Which Other Services Are Offered by Family Dentists?
If a family member wants to improve their dental work, we can perform procedures such as teeth realignment, porcelain installation, or teeth whitening to help them achieve their desired appearance. While other forms of dentistry have a functional value, cosmetics are done for aesthetic purposes.
Our clinic provides professional cosmetic dentistry services for both men and women. Among our most sought-after packages is teeth whitening. We're able to remove stains from your teeth in just 45-60 minutes. During the procedure, a whitening gel will be placed on your teeth and left to sit for a while, before being gently removed to reveal your sparkling white teeth.
Tips for Choosing a Family Dentist
When looking for a family dentist, always check whether the practitioner has the necessary academic qualifications and license to operate. That will protect you from falling into the hands of quacks.
Select a dental practice with an inviting and warm atmosphere. This is quite important for small kids. Your family dentist will be the one providing your little ones with their formative dental experiences. Find a practice with a positive environment for kids as well as instill sound oral hygiene habits. That will pay off tremendously in years to come.
Your Family Dentist
Are you looking for a West Edmonton family dentist clinic? Donsdale Dental is here for you. Our services are all-inclusive for all ages. We are dedicated to providing quality care in a professional and caring environment. To schedule your appointment, call us today on 780-760-4000.
West Edmonton Family Dentist