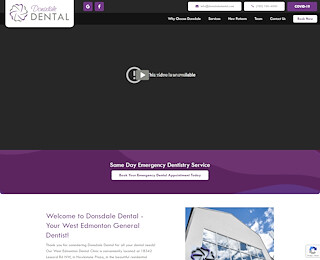 A pediatric dentist is a doctor who is committed to the oral health of infants, young children, and teenagers. The dentist has the qualifications and experience to care for a kid's teeth, mouth, and gums throughout the different stages of childhood.
It's important to take your children to a dentist. Kids start to get baby teeth in the first six months. Once they attain the age 6 or 7, they begin to lose their baby teeth. These are replaced with secondary, permanent teeth. If your children don't receive proper dental care, they face possible oral disease and decay that can result in a lifetime of complications and pain.
A qualified pediatric dentist is able to treat tooth decay, which commonly affects children. To identify cavities, the dentist will check for signs of teeth dullness, or a white band forming across the gum-line where it connects with the teeth.
Donsdale Dental provides oral care services to children from 6 months old up to adolescent. We work with children in a caring and participatory way so that they can always feel comfortable and engaged throughout the dental session.
As one of the leading West Edmonton children's dentist, we provide a wide range of pediatric oral-care services including cavity filling, tooth extraction, and orthodontic dental restorations for crossbites, open bites, and teeth crowding.
What Are the Benefits of a Kid-Friendly Dental Clinic?
Since kids enjoy being in a fun environment, most pediatric dental centers have colorful clinics. The clinic may also have cartoon characters on the walls to make the place livelier. Such colorful wall-paintings and entertaining murals help children to relax during their treatment session.
Some clinics have games and kids' magazines that the little ones can enjoy while waiting for their turn to see the dentist. These usually assist in putting at ease tense or nervous children. It also helps to cheer up the kids and alleviate their fear of visiting a dentist.
Which Services are Offered by Pediatric Dentists?
Pedodontists may provide tooth space-management services when a child suffers from premature loss of their primary teeth. In this process, the dentist uses specialized equipment to preserve the space existing between the dental arches. That, in turn, allows permanent teeth to grow in their correct place to replace the temporary ones. Additionally, dentists can advise caregivers on the best foods that promote children's dental health.
We are a certified children's dental clinic, providing everyday dental checkups and treatment services. At Donsdale Dental Clinic, our aim is to put a smile on your little one's face.
The Importance of Taking Your Child for A Pediatric Dental Checkup
In many instances, children fear to tell their parents they have a dental problem and end up suffering in silence. They could be hiding a cavity, broken tooth or, gum pain, and you won't know unless you take them to a pediatric dentist for a checkup.
Additionally, dentists help toddlers manage teething problems such as reddening or swelling of gums, irritability, and flushed cheeks.
Caring Pediatric Dental Solutions
Are you looking for a caring pediatric dental clinic? Donsdale Dental is a friendly clinic dedicated to providing the best possible oral health for your little ones. We have a team of highly qualified pedodontists at our West Edmonton children's dentist clinic. Our friendly and professional team take will excellent care of your kid's dental needs. To book an appointment, call us on 780-760-4000.
West Edmonton Children's Dentist